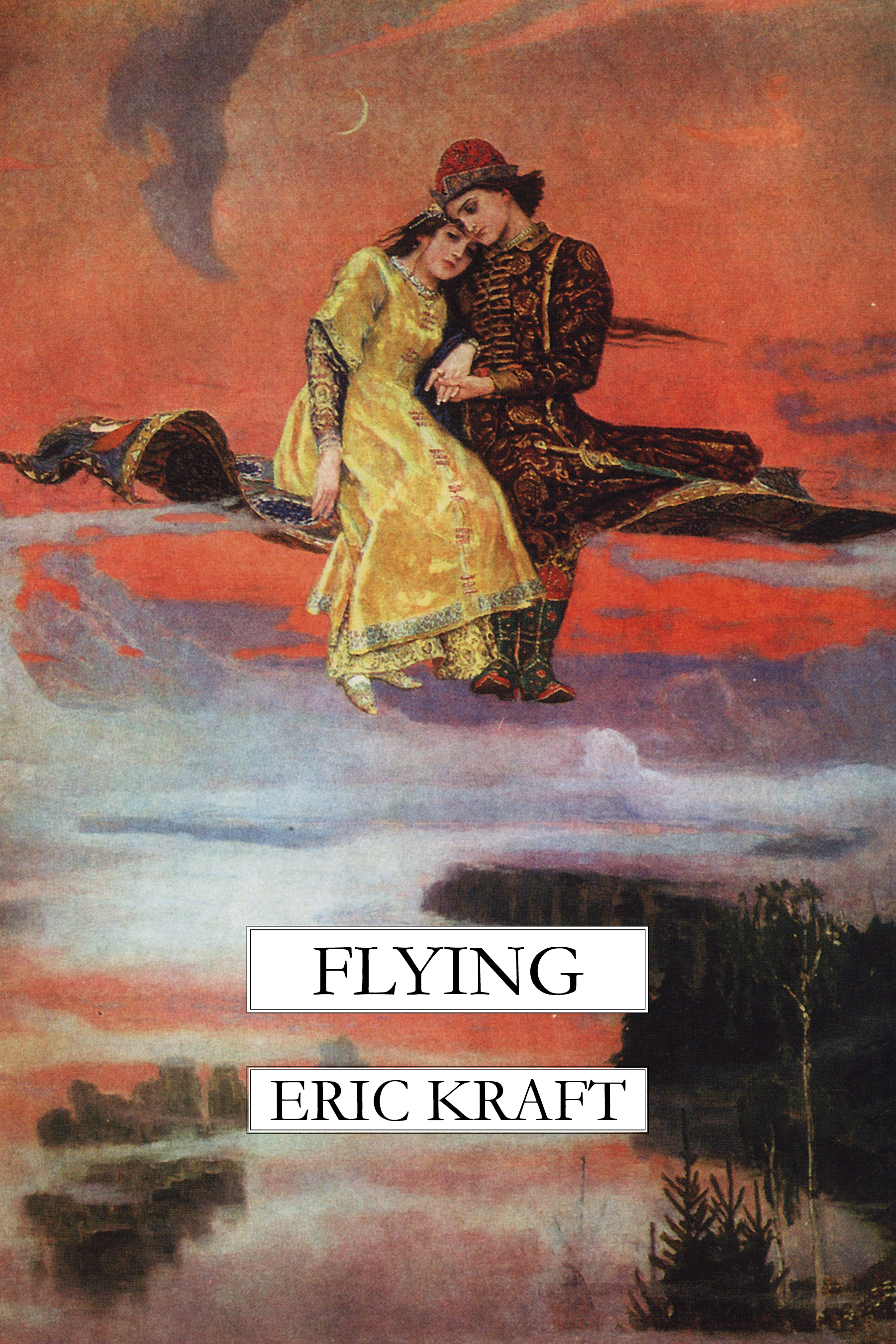 Viktor Vasnetsove, Flying Carpet (1919–1926, detail)
Flying

The Babbington Press (2020)

Paperback: 479 pages, $ 25.95

Hardcover: 479 pages, $ 29.95

Amazon Kindle: $5.99

Apple Books: $5.99

Flying
Listen to a discussion of
Flying
with Leonard Lopate on WNYC (15 minutes).  




From the Rapturous Verbatim blog: "The true joy of Flying is in its language, rich with metaphor and beauty. Kraft's sentences are marvelous, long and flowing, reading naturally and seductively and wrapping around the reader's mind in an intoxicating way."





The Barnes & Noble Review has chosen Flying as one of the Ten Best Fiction Books of 2009.

Radhika Jones writes: "A reminder of how entertaining a novel can be when it slips the surly bonds of realism. . . . The effect is like a happy-go-lucky Nabokov, with all the road-tripping wordplay and none of the incest. . . . Kraft's affectionately satirical, buoyant language makes Flying soar."

Laura Miller writes: "Beneath its aw-shucks surface, Flying is an ingenious, at times dizzyingly self-inverting assault not only on the truth, but on the concoction of palatable fictions, as well. Its only inviolate god is the human imagination; it's a paean to flight by a boy who never left the ground, except, perhaps, where it counts most: in his mind."

Richard Rayner writes: "Eric Kraft is an oddball, an eccentric, a bit of a genius — the writerly equivalent of a dreamer who puts together weird and wonderful contraptions in his garage. . . . Kraft has made his career out of high-wire performance, seizing on the merest hint or detail and spinning it into magic. . . . Flying . . . feels like Kraft's grandest achievement since Herb 'n' Lorna."

Matthew Battles writes: "If you were to pick up a hitchhiking Jorge Luis Borges and Robert Pirsig, or to listen as Thomas Pynchon recited Ulysses from memory over longnecks on J. D. Salinger's tab, you might catch the flavor of Eric Kraft's work."

Andrei Codrescu writes: "What follows is an e-mail discussion of Flying, a conversation kept purposefully high-minded by the interviewer for fear that the writer might cunningly, and at any moment, slip into Peter Leroy's skin and start making fun of the questions. He tried. It didn't work. This is a serious talk about writing."

William McKeen writes that Flying is "that rare book that can change the way you look at the world. Peter looks at life as if he's seeing it for the first time. If you'll only buy into this, you can find the same joy Peter Leroy finds."

Drew Nellins writes: "Less than 10 pages into Flying, having already laughed aloud several times, I was struck by a question too seldom asked when trying out a new author: 'How is it that I've never heard of this guy?'"

Adam Eisenberg writes: "The book is a quixotic romp where the joys of fantasy/adventure mix with Proustian musings. "

"A zany, heart-lifting escape from the everyday."

"Delightful. Not to be missed."
"Intricate, intelligent and finely crafted."
(FIRST REVIEW)

Donna Seaman writes: "Because Kraft expresses an abiding faith in steadfast love and impossible dreams, because he uses humor to shape a humanistic ethos, and because he takes profound pleasure in the resonance of language and the magic of storytelling, reading Kraft's inventive and effervescent tales is a rare and sustaining joy."

(SECOND REVIEW)

Marion Winik writes: "Extremely smart and more or less free of real narrative tension or emotion, Kraft's book is less a conventional narrative than a series of fables that explores imagination and memory, makes jokes about various intellectual matters and examines how we fabricate and promulgate the Story of Our Lives. . . . I didn't really like the book."

Christine Ma writes: "Some readers will find Peter ultimately too self-centered to beckon our sympathy. . . . But not liking a character is not grounds for disregarding the book. There are several laugh-out-loud events . . . ."

"A zany, heart-lifting escape from the everyday."
"Kraft's comic saga, The Personal History, Adventures, Experiences & Observations of Peter Leroy, reaches a celebratory milestone with the publication of the closing volume in the gleeful and ingenious Flying trilogy. To ensure that readers have ready access to this must-read series-within-a-series, all three novels are collected here: Taking Off (2006), On the Wing (2007), and the new finale, Flying Home. Peter –– now 63 and as impetuous, romantic, and resourceful as he was when he was the Birdboy of Babbington –– intends to return to the New Mexico campus where he arrived at age 15 with his aerocycle Spirit to spend an exciting if peculiar summer among similarly brainy, oddball kids. But, instead, Peter and his droll and agreeable sidekick, wife Albertine, hit the road yet again. While she drives their sporty electric car, Peter reads to her, sharing his memoir about his uproarious youthful desert adventures while covertly continuing his ongoing inquiry into the mysteries of memory. Once again, wizardly Kraft mixes boy-wonder high jinks with metaphysical musings, tall tales, and true love in a zany, heart-lifting escape from the everyday."
Donna Seaman, Booklist
"Delightful. Not to be missed."
"This delightful omnibus volume includes three novels: the previously published Taking Off and On the Wing and the never before published Flying Home, which completes the adolescent adventure of Kraft's serial alter ego character Peter Leroy — aka the 'Bird Boy of Babbington.'
"Flying Home revisits the 1950s, when Peter's 'flight' from Long Island to New Mexico via a home-made 'aerocycle' (which, in truth, only "taxied" at virtual ground level) made him a local celebrity — and also shows him in the near-present, now in his 60s, resigned to tell the unromantic truth about his adventure. We're also made privy to his youthful experiences at a most unconventional institution of, uh, higher learning: the Summer Institute of Mathematics, Physics, and Weaponry (SIMPaW), a precariously dangling branch of the New Mexico Institute of Agriculture, Technology, and Pharmacy. This southwestern Arcadia is a breeding ground for miscellaneous young geniuses and crackpots, and a vehicle, some might say, for Kraft's deadpan reworking of the imaginary discipline of 'pataphysics' concocted by super-eccentric surrealist author Alfred Jarry. SIMPaW's inspired simulations of applied science are nicely juxtaposed with Peter's abovementioned later return home, accompanied by his unflappably cool and comforting spouse Albertine, as he scrambles for a palatable explanation of his 'lies,' which may discourage Babbington from exploiting his local fame as the main attraction of a tourist-friendly theme park. As all Kraft's novels do, this one meanders and repeats itself nearly ad nauseam. But the tomfoolery retains its power to charm, and Peter's habit of 'mental traveling' finally adds up to something like a Proustian exploration of the phenomenon of memory. Besides, there's no resisting an author who, while effortlessly shifting gears and subjects, announces, 'I apologize for this chapter.' . . . The finished trilogy is a trip not to be missed."
Kirkus Reviews
"Kraft's protagonist through 12 novels, the memoirist Peter Leroy is both an egoist and an egotist who by all rights should be a crashing bore, but his curious idiosyncrasies, strange perspectives, and satirical wit render him fascinating. His ego is held somewhat in check by his wryly brilliant wife, Albertine, and their pithy, erudite conversations resemble those of a markedly hornier William Powell and Myrna Loy. The account of a mostly fraudulent "aerocycle" voyage to and from Long Island, NY, to a summer institute for potential spies in New Mexico by 15-year-old Peter around 1960 alternates with the tale of Peter and Albertine retracing the voyage in the present day. Both voyages could be described as picaresques, featuring a delightful variety of odd hostelries and characters. Kraft employs actual and altered illustrations and advertisements from popular science magazines from the 1930s through the 1950s to hilarious effect. Likely to appeal primarily to boomers and seniors, this is an essential purchase for public libraries, but it is also recommended for academic libraries."
Library Journal
"Intricate, intelligent and finely crafted."
"This chunky paperback collects Flying Home, the final installment to Kraft's Flying trilogy, along with its predecessors to give readers the full, nutty story of Peter Leroy's solo cross-country "aerocycle" flight 50 years ago. Alternating with Peter's memoir of the summer after his cross-country odyssey is the story of his return to hometown Babbington, N.Y., as a man in his 60s prepared to confess that his hand-built contraption never made it off the ground. As Peter and his wife, Albertine, continue the road trip begun in On the Wing, Peter reads aloud from his memoir, recalling the bizarre goings-on at the Summer Institute of Mathematics, Physics, and Weaponry. His recollections show Peter to be an unreliable narrator whose wandering mind ends up being far more revealing than his impressions of reality might have been. The simple narrative structure belies the complex way that Kraft interweaves philosophy and science while gently pushing Peter and Albertine toward the big moment of truth. Kraft brings the trilogy to a fitting end, and the collected works comprise an intricate, intelligent and finely crafted saga."
Publishers Weekly
Order an eBook edition of Flying.